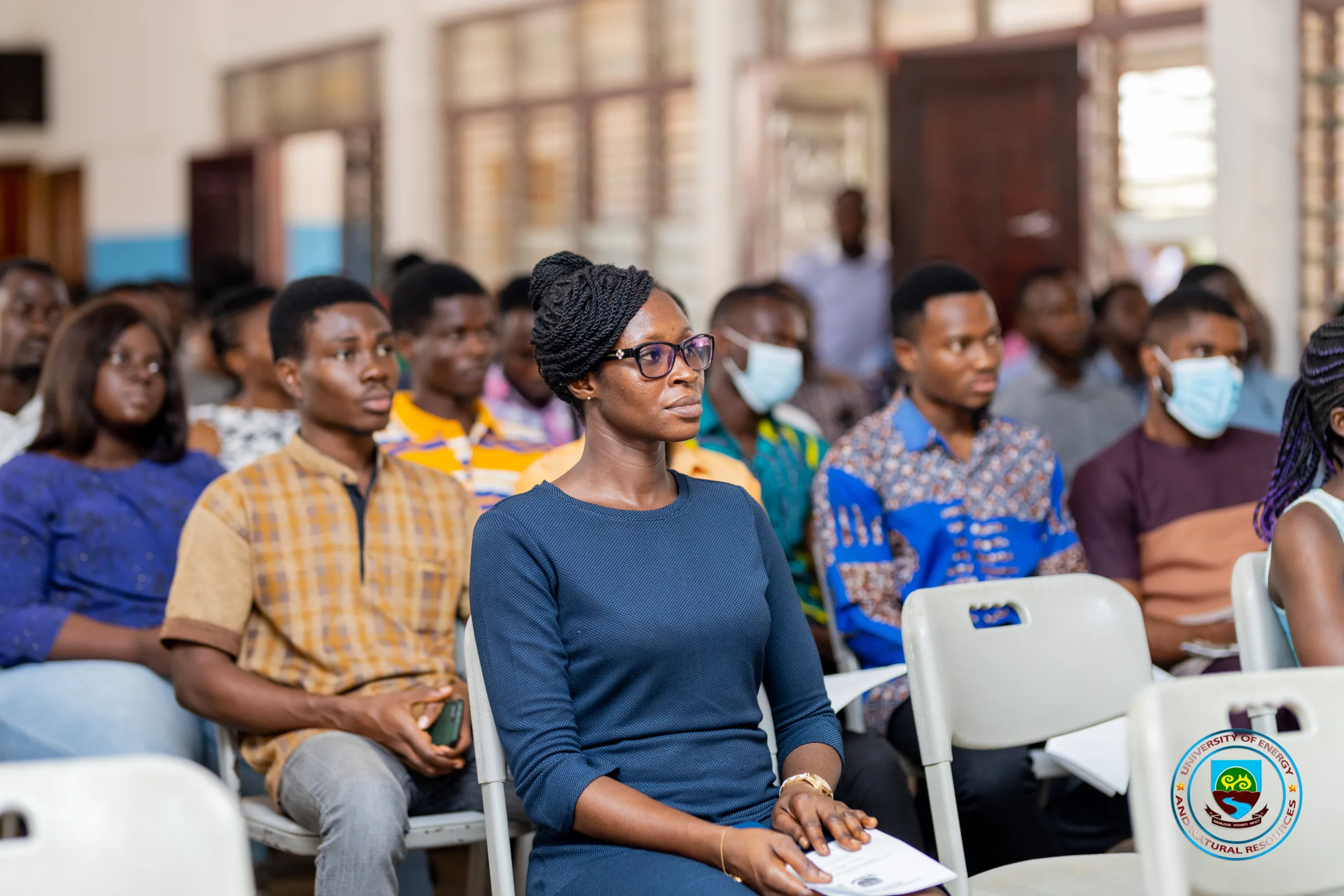 The Human Resources Division (HRD) of UENR on Tuesday, January 30, 2023 held an orientation for the National Service Personnel (NSP) of the University for the 2022/2023 Academic Year. The orientation themed " Familiarization with the Systems and Structure of the University for a Better Work Experience" afforded the Personnel to get acquainted with daily work routines and what is expected of them during their period of Service.
Dr. George K. Anane, Head of the Academic and Students' Affairs Division (ASAD) standing in for the Registrar, Solomon Panford, Esq., APR, as Chairperson advised the Personnel to show good behaviour, be responsible, and be dedicated to their work. Dr. Anane challenged them to learn new ideas both in and outside their workplace, noting that working hard and proving innovative skills for the growth of the University could create an opportunity for them to be retained after their National service period.
Urging them, Dr. Anane noted that punctuality, regularity at work and respect for the rules and regulations governing the institution should be their hallmark. He added that exhibiting a positive attitude and character can earn them good recommendations by their Supervisors for any job opportunity.
An Assistant Registrar at RCEES, Mr. Eric Lebenone Mwintome in his presentation on UENR's establishment, core mandate, vision and achievements, walked the participants through the historical background of the University. He also explained the brand identity of the University such as the University logo, taking into consideration the meaning of the various elements and symbols.
Presenting on the topic "Roles and Expectations of National Service Persons", an Assistant Registrar at the University Relations Office, Ms. Abigail Yeboah-kyereh elaborated on the daily office duties required of National Service Personnel in the University. Miss Yeboah-Kyereh said it's expected that National Service Persons in the administrative offices be abreast with basic clerical duties such as attending to correspondences (receiving and dispatching letters), preparing venues for meetings, exhibiting good communication and organizational skills among others.
Also in her delivery, she advised them to be more focused, work hard, be confidential and build teamwork. To the Teaching and Research Assistants, Miss Yeboah-Kyereh entreated them to be professional in their work, urging them to work closely with their Supervisors to ensure students receive the needed information for teaching and research purposes.
A Junior Assistant Registrar at the HRD, Dr. John Kwasi Annan, took the NSP through the work ethics and code of conduct governing the institution. He noted that the University looks for people with good attitudes who are willing to work diligently void of negativity. He charged them, especially the Teaching and Research Assistants not to compromise their ethical values in dealing with students.