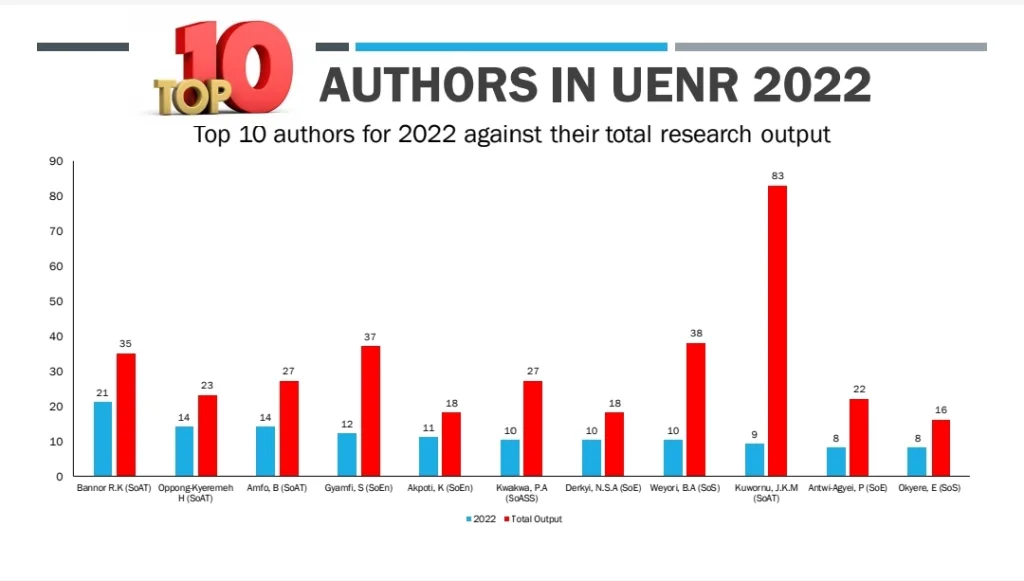 Four staff of the School of Agriculture and Technology (SoAT), Dormaa Campus have been listed among the top ten authors from UENR in Scopus within the year 2022. The top three: Dr. Richard K. Bannor (SoAT) authored 21 papers being the highest. Becoming the highest female author, Ms. Helena Oppong-Kyeremeh, HoD- of Agribusiness Management and Consumer Studies, and Dr. Bismark Amfo, (SoAT) both published 14 papers making them second highest authors. Adding to the top three from the School, Prof. John K.M Kuwornu with 9 papers emerged 8th out of the top ten UENR Authors.
The other top ten Authors from UENR included Prof. Samuel Gyamfi (12 papers), Dr. Komlavi Akpoti (11 papers), Dr. Paul Adjei Kwakwa (10 papers), Prof. Nana Sarfo Agyemang Derkyi (10 papers), Dr. Benjamin A. Weyori (10 papers), Dr. Prince Antwi-Agyei (8 papers) and Mr. Eric Okyere (8 papers).
These were disclosed in the School's End of Year Research Output Analysis conducted as appeared in Scopus database as at December 2022. Ag. Dean of SoAT, Dr. Samuel Kwesi Asomaning congratulated all the Faculty for their hard work. He described the analysis as part of efforts to promote and sustain research in the University.
The analysis also revealed that the School's contribution to the total number of documents published by UENR stands at 52 out of a total of 268. Of this, the Department of Agribusiness Management and Consumer Studies contributed 66%, whereas the Department of Horticulture and Crop Production scored 19% and the Department of Animal Production and Health scaled from 0 in 2021 to 15% in 2022. Dr. Bannor also led the School for the first time to get a Patent and earn a Certificate of Grant Innovation Patent IP from the Australian Government.
Speaking on the way forward, the Dr. Bannor mentioned that the School intends to development policy briefs on the various research conducted to and disseminated on Farmers Day for the Ministry of Food and Agriculture as well as Farmers consumption, all geared towards improving the quality of Agricultural produce.
Some of subject areas published by included Business, Management and Accounting, Economics, Econometrics and Finance, and Environmental Sciences.