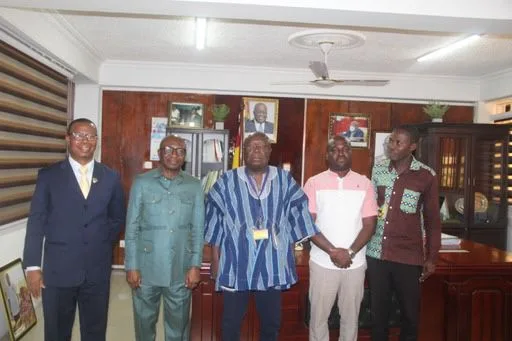 A team from UENR, Sunyani led by Prof. Elvis Asare-Bediako, the Vice-Chancellor paid a courtesy call to the Minister of Environment, Science, Technology and Innovation, Dr. Kweku Afriyie on Thursday, February 16, 2023, to provide updates on the joint scientific research project on the establishment of a Carbon flux monitoring station at the Bia Tano Forest reserve, which is being conducted by both the University of Energy and Natural Resources and the Global Change Research Institute CAS, based in the Czech Republic.
The Vice-Chancellor thanked Dr. Afriyie for his immense support towards the realization of this project and for why the University settled on him as the Special Guest for the commissioning of the project on the 8th of March 2023. The forest carbon flux data from this project will provide in situ information on the carbon sequestration capacity of the tropical Ghanaian forest and show their relevance in developing sound climate change mitigation policies to promote sustainable forest management practices as a way to regulate deforestation.
The UENR team indicated to the Ministry that this forms part of activities to celebrate the University for its contributions to scientific research and education since its establishment 10 years ago as the University marks its grand durbar on Saturday, April 1, 2023. Dr. Afriyie's team had Dr. Naa Dedei Tagoe, Senior Lecturer at the Department of Geomatics Engineering and Director for Sustainability, Mrs. Lydia Asuah, Director for Policy, Planning, Monitoring and Evaluation, Mr Bashiru Salifu, Deputy Director with the Directorate of Science, Technology and Innovation and Mr. Benjamin Oppong, Special Aide to the minister.
Accompanying the Vice-Chancellor were Dr. Caleb Mensah, a lecturer at the Department of Atmospheric and Climate Science, Mr. Francis Kudjoe, Assistant Research Fellow and Partnership Coordinator of the Earth Observation Research and Innovation Centre (EORIC) and Mr. James Clarke Hayford, a Junior Assistant Registrar with the Institutional Advancement and Alumni Relations Office (IAARO).